Slave Owners of Jack and his Children
Repeating our oral history which has reported that Jack said to his daughter Jane (Johnson) Turner, "We are really Kimbrew's- Kimbroo's." Also, that Jack originated in the Bahamas. Is Kimbroo an African or Carribean tribe? Or as understood by descendants a family slaveholder name of Kimbro or Kimbrough?
We have documentation of Jack and several children in 1856 with slave owner John Caldwell Johnson. Where do we go before that date?
In going further back to the Carribean and Jack's birth range the names are endless. Therefore to be definitive one needs to find the middle.
In 1850 our John Caldwell Johnson 's census does list Jack's three children's ages as slaves (same?). Jack's age is either misrepresented or he is elsewhere. In 1840 it is not known whether John C had Jack or not.
We look at other Johns(t)on family, marriages, and neighbors in contact with John Caldwell Johns(t)on in Alabama and South Carolina. So far after reading thousands of probate records relating to the family nothing has bore fruit except a few leads with affiliated wills noting a distributed slave named "Jack". These are possibilities.
Exploring the Kimbrough name has proven to be a strong possibility. The family origins and migrations had coincided with Jack's reported path of Virginia, TN, NC, Alabama, and Mississippi. Interesting is that many branches of the Kimbrough family have noted the slaves they have owned as being kept in the family. Protecting the slaves from the selling block. Using affectionate terms in will documents. If that is the case of the Kimbrough legacy how did Jack and his family become Johnson's? or were they Johnson's first ? Many speculations.
We do know that several Kimbrough's lived in and near Greene County, Alabama.
The closest being half brothers George and Marmaduke Kimbrough from North Carolina (Jack's listed census' origin of birth) In fact Marmaduke lived less than 19 miles from John Caldwell Johns(t)on. John C. was in district 15 in Mt. Hebron, Alabama and Marmaduke district 13 in Union, Alabama. George Kimbrough and his wife Esther Love Steele moved again from Greene County, AL to Kemper County, MS .
(Please note in researching these Kimbrough and Johns(t)on names many given names repeat themselves due to the practice of naming rights.)
Another relationship of interest is Whitt, Witt, and DeWitt . These are surnames of our Y DNA. Several Kimbrough's had married Witt's .
In the near future we will have a page outlining our Y, MtDNA and autosomal kits results.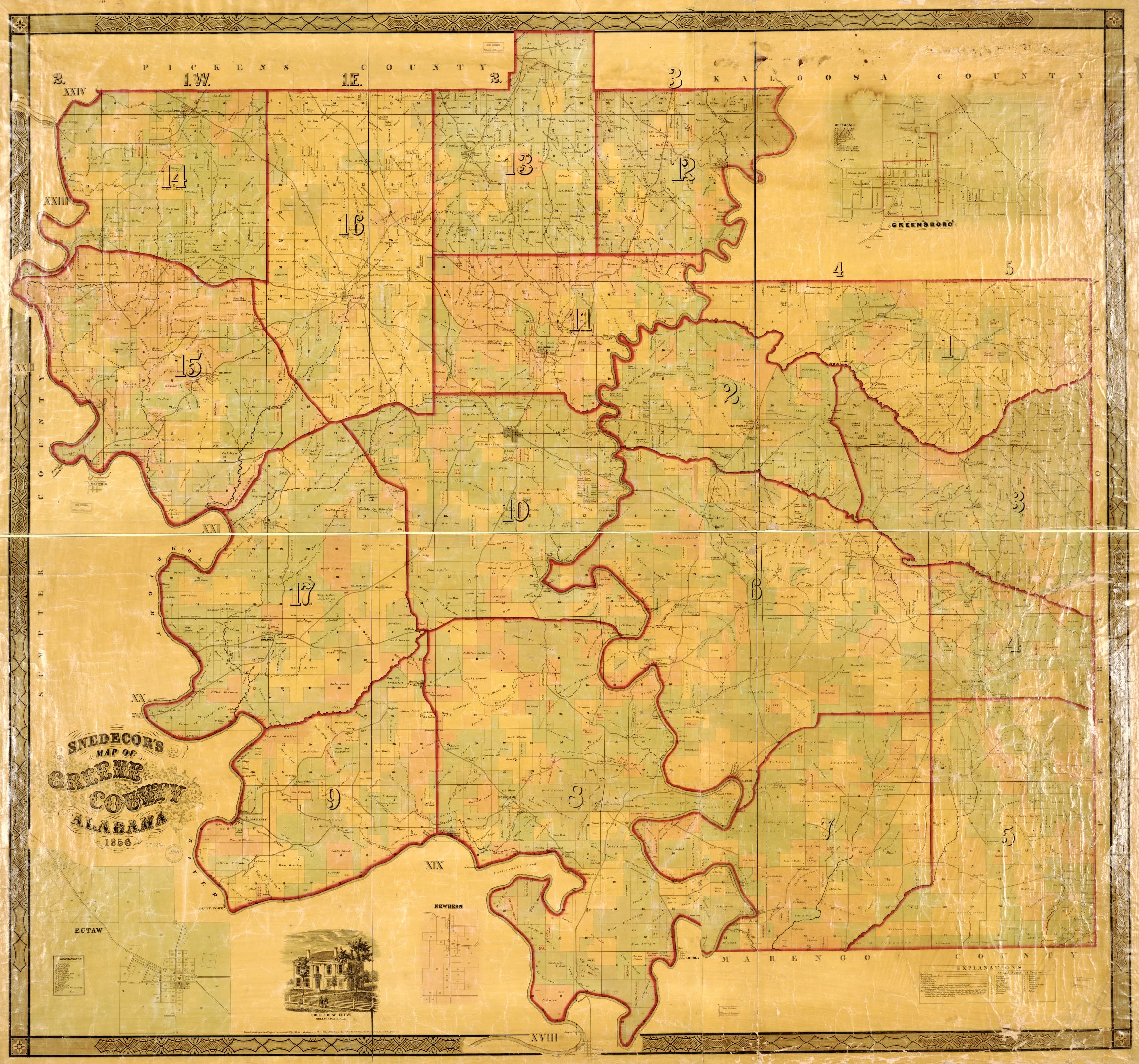 Slave Owner John Caldwell Johns(t)on
Born 1-18-1802 in Union County, SC Died 1-11-1856 in Greene County, Alabama
Son of Thomas Dougan Johnston and Elizabeth Caldwell. Thomas was a twin and a son of a Revolutionary War hero; John Johnston, hung by the Tories.
John C. is buried in Sardis Cemetery in the Mt. Hebron area of Greene County.
Researching this family to provide clues about our enslaved Jack Johnson and children has been challenging.
Several John Johns(t)on's lived in or near Greene, Hale and Pickens Counties of Alabama. The surname Johnson and Johnston was regularly switched in documents of most families with this surname.
In fact, another John Caldwell Johns(t)on lived within 5 miles of our John C. Discerning between the John's is a careful process.
Spouse: Sarah Gordon born 11-18-1805 died 8-13-1837
Buried in Otterson Cemetery near Union in Greene County, AL. The Find-a-Grave information may be wrong indicating this Sarah Johnson was a Collins not a Gordon. I believe this is Sarah (Gordon) Johnson. Otterson's intermarried with Gordon's and Johnson's which would make this cemetery a likely resting place for a Gordon not a Collins. In addition, records show a Sarah Collins married a Beazele.
CHILDREN AND HEIRS: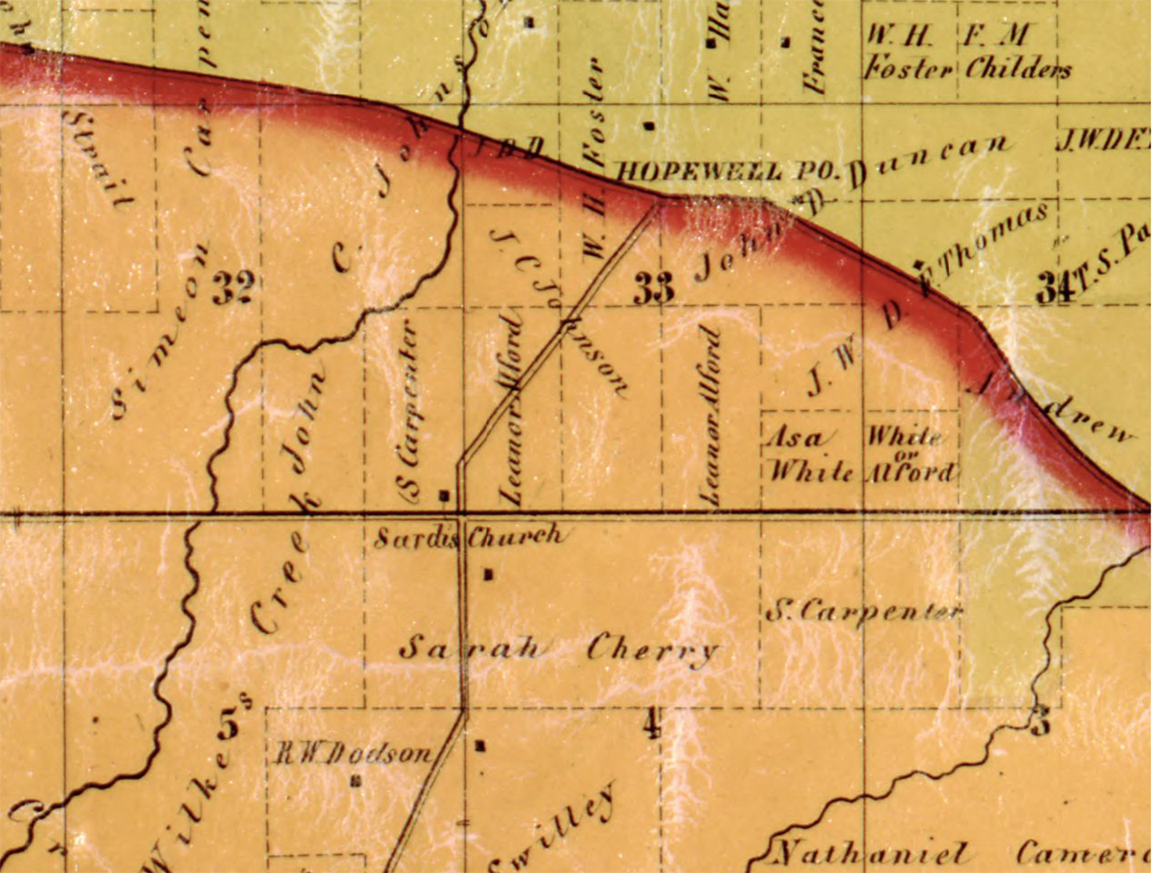 Slave Owner Sarah and Annie Rea
1. Louisa C. (Johnson) R(h)ea b. 3-20-1829 d.11-7-1855
Married in 1844 to John R(h)ea (Ray)
Children and Heirs:
i. SLAVE OWNER: Annie
Louisa A. E. "Annie Laura" Rea b.9-28-1854 d. 10-20-1866.
ii. SLAVE OWNER: Sarah Rea
Sarah V.C. Rea born 1848 and married Thomas Bibb 1867
It appears that John left the area soon after Louisa's death. Their children were raised by her sister Mary. The children under guardianship of the Carpenter family inherited our HENRY Johnson born 1844. Note: Sarah Rea Bibb later sued the Carpenter's for monies she felt owed to her. See attached case from Supreme Court of Alabama.
Click on Photo Documents to Enlarge
Slave Owner Elizabeth "Adaline" (Johnson) Price
2. SLAVE OWNER: Elizabeth Adaline (Johnson) Price
Elizabeth "Adaline" Adalaide (Johnson) Price, b. 10-30-1830 d. 9-19-1895 Wife of Cuthbert Lewis Price (6-13-1821 to 7-17-1899). Moved to Anderson County, Palestine, Texas in 1851 a few years after their marriage in 1849. Inherited our RUFUS Johnson born 1846.
i. Texanna Eleanor b 11-18-1850 d 11-5-1877
ii. Fletcher Evelyn b 8-28-1853 d3-10-1930
iii. Sarah Elmetta b11-23-1854 d4-3-1948
iv. C.J. b1859
v. Isabel A. b1861
vi. Samuel B. b.6-6-1864 d.10-23-1883
vii. Sydney Johnson b1866 d1924
viii. John Caldwell "Dink?" b7-29-1868 d1-25-1941
ix. C.L. Jr. "Bud?" b1870 d1880
x. M. Lola. b 1872 d1924
xi. Walter Scott b 2-18-1875 d 7-10-1944
Note: Family researchers of the Price family have reported that Cuthbert Lewis' Aunt Margaret Straight Price remarried to a Joseph Trussell and both were killed by slaves in 1835. Also, Cuthbert's brother-in-law was noted as being murdered by slaves wanting off for July 4th in 1850. How this related to our family and the treatment of Rufus in slavery is only speculative.
Slave Owner Mary M.A. (Johnson) Carpenter
3. SLAVE OWNER: Mary M.A. (Johnson) Carpenter
Mary M.A. (Martha Ann) (Johnson) Carpenter. b. 5-23-1834 d. 9-21-1868 Married 1-18-1855, Samuel T. Carpenter born 7-1-1830 and died serving the Confederacy 5-12-1862.
i. Mary A. Carpenter b. 4-20-1860 d. 9-4-1866.
Buried Sardis Cemetery.
Inherited from JOHN C. JOHNSON: our CAROLINE (Johnson) Gully born 1845.
Mary married secondly Thomas Henry Rogers 1-1-1867. She is buried in Sardis Cemetery under name of Rogers.
Note: Another Mary M Carpenter was married to Samuel T.'s father; Simeon Carpenter (1800-1860). This was Mary M. Cherry 1808-1881 Mother of Samuel T. Carpenter.
Slave Owner Robert Wilson Johns(t)on
4. SLAVE OWNER: Robert Wilson Johns(t)on
Robert Wilson Johnson b.1836 AL d.1894 Arkansas married to Rebecca Oliver born 1840 in Georgia and died 1907 Arkansas. Will of Rebecca (Oliver) Johnson attached.
i. Sarah Alice b1859 -Married surname; Jahn and lived in Indian Territory
ii. John Caldwell b1861
iii. Robert Wilson b 6-6-1864 - d 11-3-1901 Children Ina and Ralph
iv. Mary W. b1869
v. Maud b1875
Robert and his family left Alabama and are found in the 1860 census in Louisiana. This is listed under John "Jack" Johnson's page of this website. The family then relocated to Kemper County, 1861-1864. Thereafter, resided in Arkansas.
Robert was the last slave owner of JACK Johnson, wife JOEANNA, and children: WILLIAM born 1851, SAVANNAH born 1854 and SALLIE born 1856.