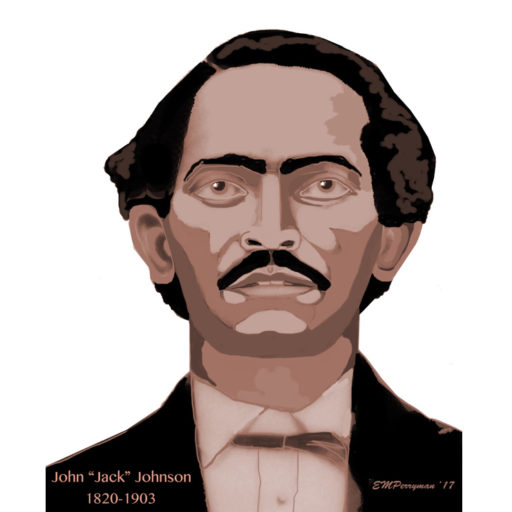 Birth and Early Years
John "Jack" Johnson in most census' and documentations is listed as being born in North Carolina. A few documents indicate Virginia. Oral history has said Jack came from the Bahamas a free man and was indentured for 6 years. Evidence so far does not back up the Bahamian origin. Caribbean records do show several John Johnson's of varying birth years between 1820-1822. Those records do not clearly define it is our Jack Johnson. One of the John Johnson's enslaved worked the sugar cane fields of Trinidad and Tobago for Sarah McKenzie of Jamaica. We will hold these notes as a possibility if dots are connected to his slave owners in the US.
Another Caribbean note "in name only" is Bermuda Hill a plantation owned by a Johnson in Greensboro, Alabama. Slave owner John C. Johnson's daughter Elizabeth "Adeline" Johnson Price born in 1830 had her birthplace listed on her death certificate as Greensboro.
According to oral history Jack said to his daughter Jane "We are really Kimbrew's". A surname of Kimbrough is associated with Jack in his early years. Marmaduke and George Kimbrough (half bothers) have been in Jack's neighborhood from North Carolina to Greene County, Alabama to Kemper County, Mississippi. Kimbrough's have also married with Witt's. Perhaps this family is Jack's slave owners prior to John Caldwell Johnson. We have information but do not have confirmation on several additional slave owners.
Y DNA
The Y DNA chromosome is transmitted from father to son. Myat Johnson (1914-2010) gave us his DNA for Y testing at FTDNA (Family Tree). Autosomal DNA was not available at that time. Myat is the grandson of Jack through Mathew T. Johnson (1882-1970). It was through his DNA that we established with certainty that we descend from John Witt who was born about 1645 in England and died in St. Charles County, Virginia. John was a wealthy planter who had a tobacco farm on the banks of the James River.
Surname variations include but are not limited to Whitt, DeWitt, and White. It is not confirmed where and when this intersection occurred.
Year 1856
In 1856 the Will of John Caldwell Johns(t)on born 1-18-1802 in Union County, SC and died 1-11-1856 in Greene County, Alabama was probated. The division and distribution of his slaves included our Jack Johnson and his children; Henry born 1844, Caroline born 1845, Rufus born 1846, Francis Marion born 1849, William born 1850, Savannah born 1854, and Sallie born 1856.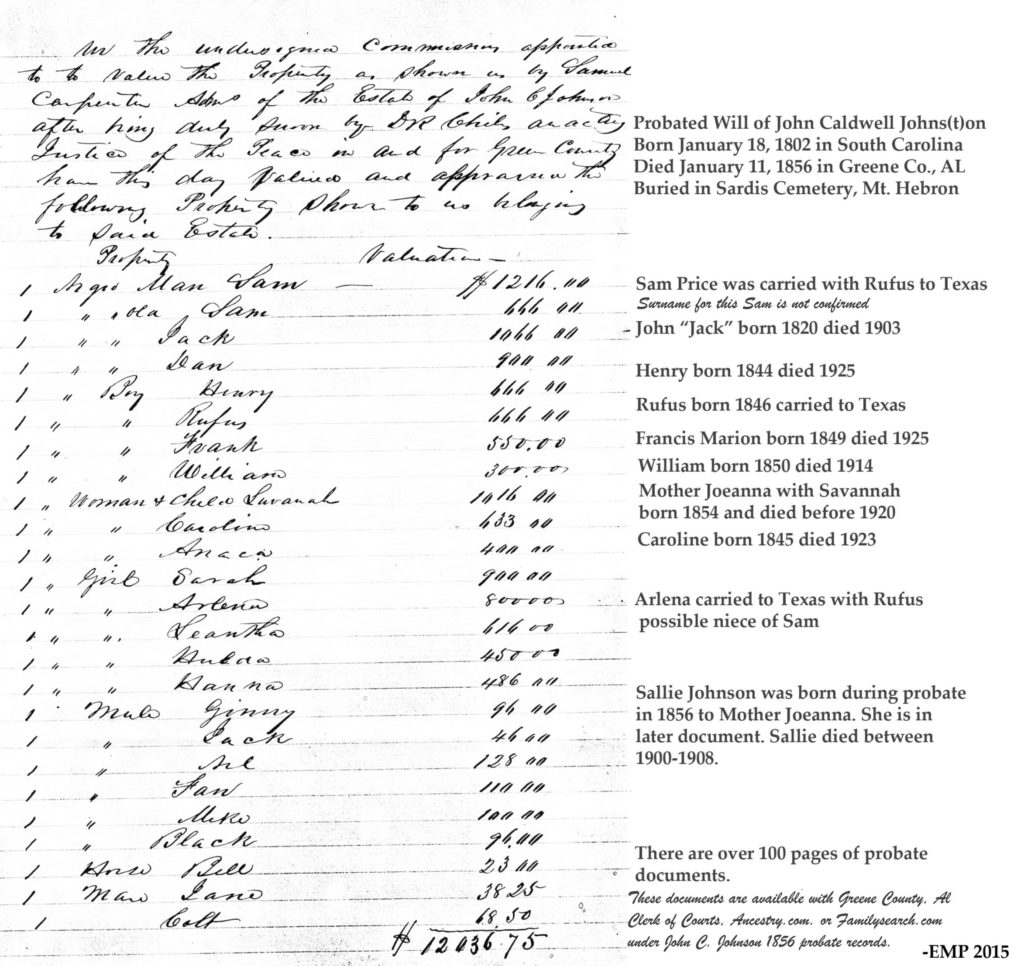 Year 1860
Jack and several of his children were listed with slave owner Robert Wilson Johns(t)on in the 1860 slave census in Vienna Twp., Jackson Parish, Louisiana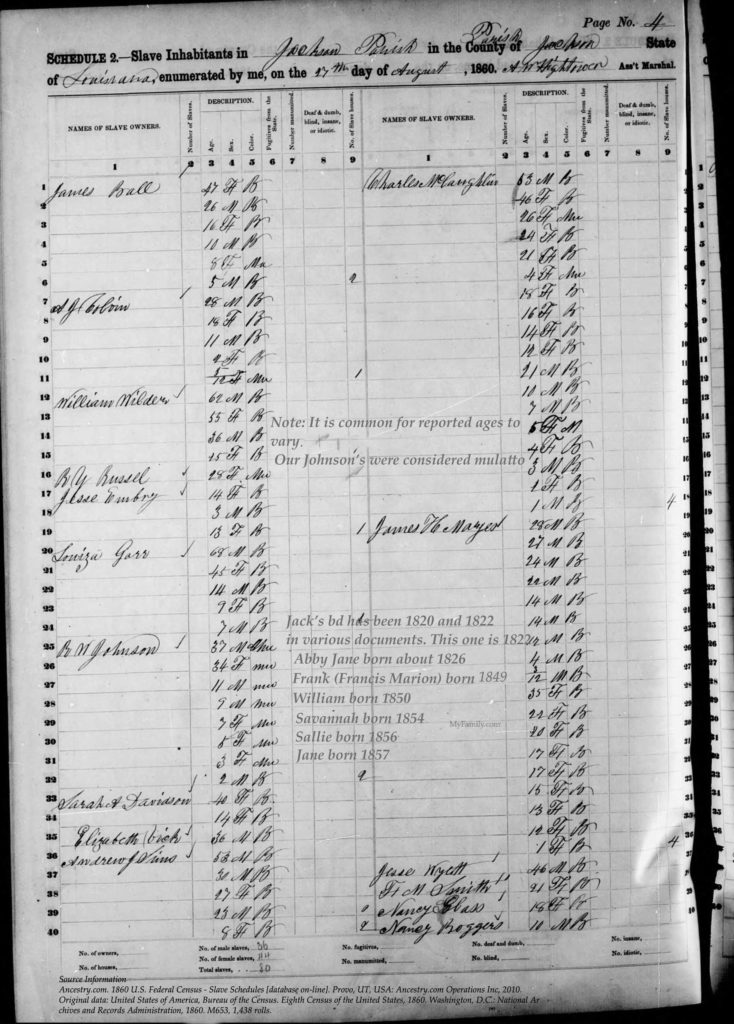 Years 1861-1865
Robert Wilson Johns(t)on (1836-1894) and his slaves relocated to Kemper County, MS. Slaveowner Robert joined the Kemper Fencibles 43rd MS Infantry, Co. K. for the Confederacy. He served with Clabe Johnson and John Kellis. At the end of the Civil War Robert and his family moved to Arkansas. Jack searched for his remaining children at other plantations and gathered all of them to Kemper County except the child he couldn't find: Rufus.
1866-1903
In 2007 county tax lists and agricultural census for Kemper County were not available. I had to purchase silver dupe positive microfilm from a Kansas underground vault storage. Listed in the microfilm are various tax census' information. Most of this information is now available at Family Search and Ancestry.com.
In 1866 Jack Johnson appears in the Mississippi census in Kemper County. He had to pay $1 as a colored man for taxes. In 1869 Jack is listed next to Henry, his firstborn son. He had to pay $1.80 in taxes for owning two mules. In 1874 Jack and children; Henry, William, and Frank paid tax on cattle, horses, swine, and even a carriage. Oral history tells us that Jack purchased the carriage for his new wife. Promising he would treat her as a queen if she married him. In 1876 Jack even paid tax on a watch. While Kemper County was in disarray, Jack Johnson and his family prospered. As racial strife heightened, Jack was one of the few to keep his land and livestock. One can only figure it was because of the strength of family. His multitudes in close proximity. Working hard toiling the land and not giving up.
Jack died in 1903 in Kemper County, Mississippi.